«Chlopfi»:
Wagyu whisperer from the neighbourhood

Our chef aquires his Wagyu cuts from "Chlopfi's Farm" in Villigen. This farm, run by Claudia and Hansruedi Zimmermann, is a typical Swiss mixed farm in the lower Aare Valley. In addition to classic crops such as wheat, barley, canola, corn and potatoes, the couple also grows grapes for wine. But the most important product, at least from the perspective of "Zollhuus," is that they breed famous "Wagyu" cattle.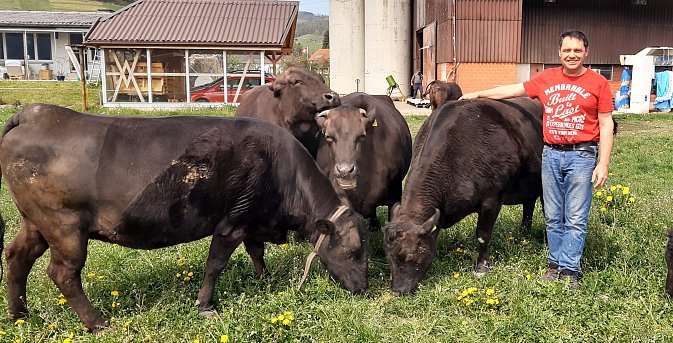 In 2005, the Wagyu trend kicked off with the first calves from a Belgian-Dutch breeder. The herd has grown considerably in the meantime and descends directly from original Wagyu breedings. Chlopfi cattle are an officially recognised Wagyu breed.
The cattle enjoy a natural upbringing and are fed exclusively grass, barley, corn and minerals. Antibiotics, hormones and growth stimulants are absolutely taboo.
After four weeks maturing, the meat finds its way to our kitchen, where our culinary team transforms the exquisite raw cuts into the finest cooked delights. Here, too, we pay attention to sustainability and the principle of "nose to tail" processing. Treat yourself to this quality and tasty experience - with good timing and a bit of luck you can even chat with Hansruedi, who is a regular guest with us and loves to talk about his Wagyu cattle.