Welcome to the «Zollhuus», the house of good taste at the Hotel Kettenbrücke.

We are pleased to present our new, cool and trendy food concepts. At the Zollhuus we promise to spoil you, indoors, or outdoors on the rooftop terrace, with perfectly grilled meat and many other unique delicacies. Fine cuts from our in-house «Dry-Aging» cabinet or our «Specials» such as T-Bone, Tomahawk, Flat Iron, Butcher's Cut, or Porter House steaks, as well as our smoked Spare Ribs and other grilled specialties offer something for everyone. Treat yourself to something special, treat yourself to the «Zollhuus».
Reservations:
In case you cannot book a table online, please give us a call. Maybe we can arrange something within other time slots.
Opening hours:
| | | |
| --- | --- | --- |
| Day | Restaurant open | Kitchen open |
| Monday - Thursday | 11:30 - 14:00 | 18:00 - 23:00 | 11:30 - 13:30 | 18:00 - 21:30 |
| Friday | 11:30 - 14:00 | 18:00 - 24:00 | 11:30 - 13:30 | 18:00 - 21:30 |
| Saturday | 18:00 - 24:00 | 18:00 - 21:30 |
| Sunday | closed | |
17th of July: Smokers Night
Enjoy the next round of our «smokers night». On saturday, 17th of July we offer a glass of sparkling wine, finest pulled pork burger, tender spare ribs, home made Zollhuus-Fries and a lot more.
CHF 145.-/person (incl. overnight stay in one of our modern rooms with king size beds, breakfast).
CHF 50.-/person (without overnight stay).

Menu in newspaper look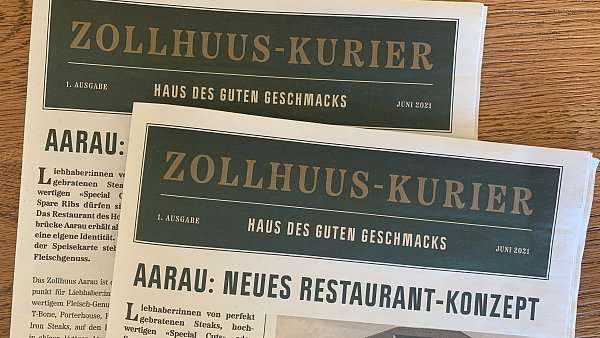 In addition to our new food concept, we also proudly present the «Zollhuus-Kurier». In this original and innovative new menu our guests will find all our culinary delights, our revised wine offers, and many other exciting morsels of information.
Sign up for our Newsletter
Here you can sign up for the «Zollhuus» Newsletter so that you are always first to be informed about upcoming Grill festivals and other special events.
In the meantime, we invite you to take a look around our new homepage and explore the culinary world of the «Zollhuus» Restaurant. Nice to have you with us!